Google is one of the most influential companies in the world, especially on the web. It can change the way we are polluting just by making people take more sustainable choices when they use its products. How? Here are 5 different points you may not know about Google sustainability actions.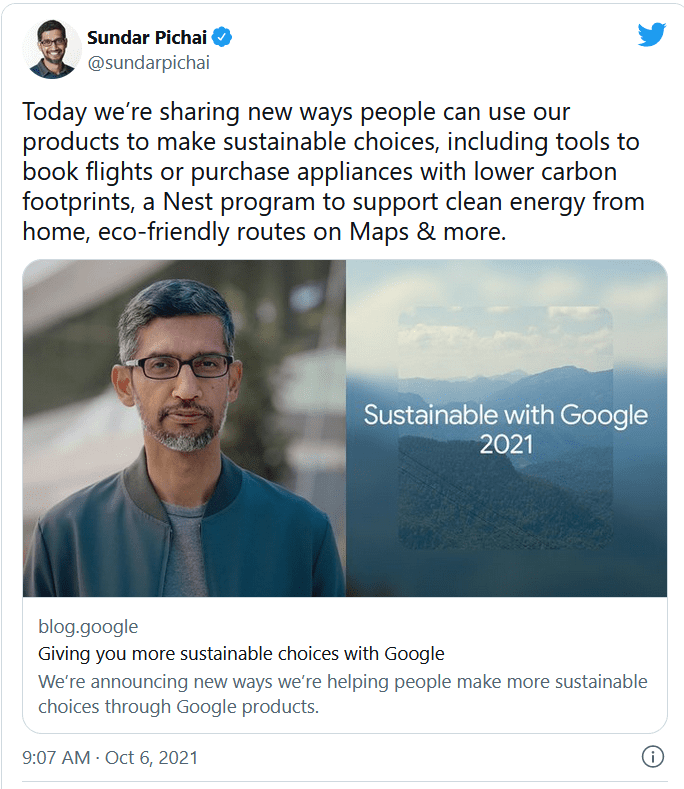 Google Maps shows the greenest routes
One of the most famous Google products is for sure Google Maps. We can have the certainty that you have used it at least once in your life, can't we? So, there is something you should know about:
Vehicles on the road account for over 75% of transportation CO2 emissions and are one of the largest contributors of greenhouse gasses worldwide, according to the International Energy Agency.
In front of these statistics, Google decided to introduce a new app update that shows users not only the fastest routes but also the greenest! Thanks to Google AI, eco-friendly routing rolled out in 2021 in the U.S. on Android and iOS, with plans to expand to Europe and beyond in 2022.
Google estimates that eco-friendly routing can prevent over one million tons of carbon emissions per year (the equivalent of having over 200,000 cars less on the road).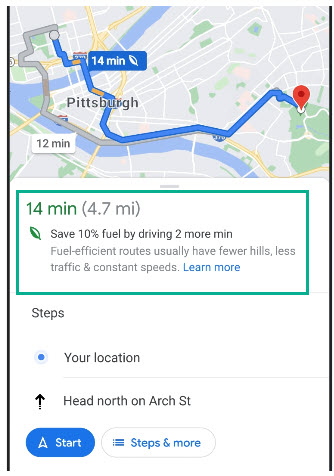 Google Flights gives more visibility to the less polluting flights
What are your plans for summer? If you are organizing your next trip, there is an interesting sustainable initiative that you will certainly meet when you search for a flight on Google: you can sort the flights by "CO2 Emissions" in order to select the option that produces less carbon dioxide.
Google also gives us some information about the way CO2 is calculated: the emissions estimates are flight-specific as well as seat-specific. The Search Engine also says that first class trips have more carbon emissions because every seat has more room available; and that the newest aircrafts consume less than the oldest ones, thanks to recent technological advances.
The most energy efficient home appliances are shown first on Google Shopping
Looking for a new dishwasher? If you search on Google and find Google Shopping tabs as first results, check them out! You will discover that the Search Engine will help narrow your search to cost-effective and sustainable options.
That is valid for every home appliance that usually consumes lots of energy. A significant step to reduce not only CO2 emissions but also your home energy consumption (less money spent on energy and less consequences for the environment).
The Dark Mode in the Search Engine
Let's go to the dark side! Google added the dark mode option to navigate on the web with multiple benefits: not just to reduce eye fatigue, but also to consume less energy.
Yes, because bright colours consume much more energy than darker ones: it is assumed that a dark screen can reduce energy consumption up to 40% (both on desktop and smartphone). So what are you waiting for? Come to the dark side with us!
Small tip: you can get the dark mode also on our website. Have you already tried it?
Visibility Boost to the most eco-friendly websites on search?
Big news for SEO specialists all over the world! John Muller, Search Advocate on Google, affirmed on Twitter that the company is studying new ways to incentivize businesses to become greener, like looking into a ranking boost for websites that are friendly to the environment (even if it is not so easy!).
That means that we need to be prepared for new Google Algorithm changes and the introduction of eco-sustainability as a ranking factor. Here is the conversation on Twitter: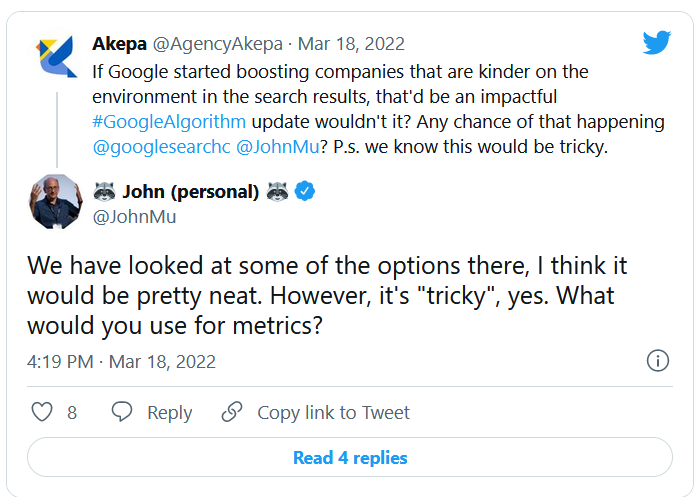 We have anticipated this Google step by creating a tool that measures websites CO2 emissions (try it for free!), helping your business to become more sustainable and consequently get more visibility on search results.
---
Do you want to know more about Karma Metrix? Contact us and start reducing the environmental impact of your website!