Corporate Digital Responsibility or CDR is a brand new and relatively unexplored sub branch of Corporate Social Responsibility. Schwartz & Carroll (2003) define Corporate Digital Responsibility as the "set of shared values and norms guiding an organization's operations with respect to the creation and operation of digital technology and data".
In other words, CDR is based on the practices and behaviours that help an organization use data and technology in a socially, economically, and environmentally responsible way.
Digital transformation after COVID-19
The digital era has revolutionized the way we interact, access information and perform our daily tasks. Since COVID-19, the time spent on our digital devices has risen exponentially. Studies from the market research company Global Web Index reveals that, on average, the " typical" global internet user now spends almost 7 hours per day – 6 hours and 58 minutes to be precise – using the internet across all devices".
Aside from the obvious benefits that technology has brought to our daily lives, it also presents many risks, especially if unmonitored and unmanaged.
Data security breaches, privacy violations, cyberattacks and terrorism, unregulated markets and/or hidden criminal activity, loss or lack of basic human rights. Those are just some of the potentially negative outcomes that societies can face today and in the nearby future on digital platforms. Therefore, if the digital side of our lives is not regulated correctly, in an ethical and responsible manner, society can ultimately be severely damaged.
The 3 areas of Corporate Digital Responsibility
Aside from meeting legal requirements and government standards, companies are starting to express their willingness to analyse and implement ethical actions and values within their digital ecosystems and corporate culture. Corporations are developing CDR in four key areas, helping companies move forward with their digital responsibility.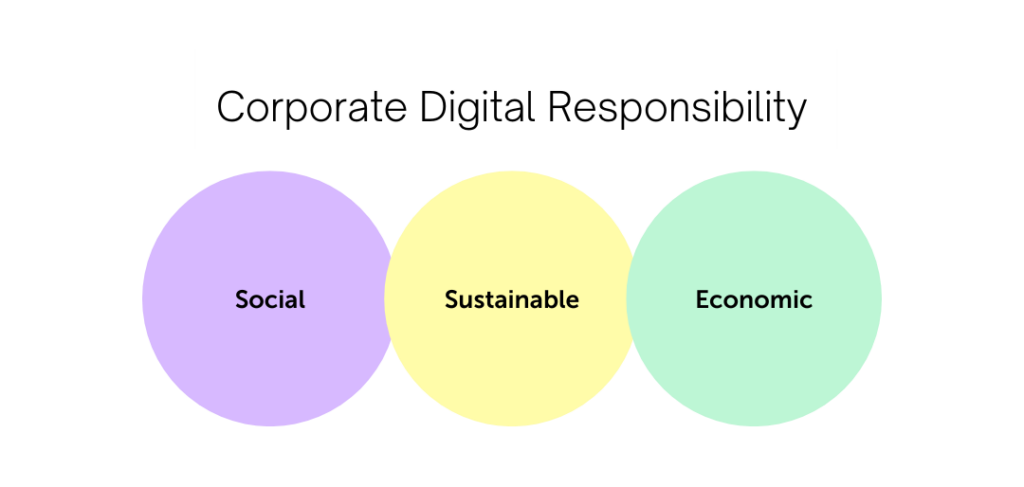 Social Digital Responsibility
SDR concerns of how the company uses technology to deal with social issues like equality, communication and rights protection.
Companies employing correct CDR practices will not only help protect the integrity of their users but will also help build consumer trust on a wider scale.
Telegram and Adobe are two examples of how tech companies go beyond the legal sphere, implementing technologies like encrypted messaging that prevents any form of surveillance or protects data from third-party requests, even governments.
This not only maintains the social side of Corporate Digital Responsibility but also gives a competitive advantage as it guarantees consumer loyalty, as well as strengthens brand image. When approaching this theme, responsible data management and privacy should be an integrating part of the company's culture and ethical approach.

A solid "diversity and inclusion" corporate policy can lead to enhanced performance, improved products and better solutions that are inclusive and take into account all members of society.
Economic Digital Responsibility
EDR is about caring how technological and digital choices impact on the economy.
The digital era along with the COVID-19 pandemic has increased the conditions of wage inequality, specifically when taking into account a long-term period. Factors like outsourcing, the digital divide, unequal pay, and competition affect the labour market negatively.
The International Labour Organization estimated that "labour income has dropped by 10.7 per cent (or US$ 3.5 trillion) globally, only in the first three quarters of 2020 in comparison with the same period in 2019, and these losses are highest in the middle-income countries."
Corporate Digital Responsibility strategies implemented by companies and corporations can help reduce this through fair income distribution. Companies should implement principles and internal regulations to manage internal workers and outsourcers, for example with the introduction of minimal wages.
Environmental Digital Responsibility
EDR Is a theme that's even more recent. Companies are starting to express concerns regarding sustainability and limiting their carbon footprint. Digital companies and e-commerce marketplaces such as Microsoft and Amazon have started to implement Corporate Social Responsibility strategies that will help reach carbon neutrality by 2030. "Microsoft aims to remove enough carbon by 2050 to account for all of the company's emissions since it was founded in 1975, while Amazon pledged to reach 100% renewable energy in its company with a fleet of 100,000 electric delivery vehicles by 2030" (Reuters). Companies should implement a CDR strategy based on digital responsibility and sobriety, where the reduction of e-waste, the digital carbon footprint and power overconsumption are key factors of the corporate culture.
Digital transformation is a core activity in business strategies: for this reason, internet sustainability should be a thing. Companies can use a Website Carbon Calculator to know their CO2 emissions and start a journey to improve the environmental impact of the website
Implementing Corporate Digital Responsibility strategies efficiently can allow corporations to produce benefits, not just for themselves but also for all members of society.
The world is experiencing a period of unprecedented technological progress, which offers organizations the power to fundamentally change society for the better.
As with physical assets, digital technologies will require companies to commit to operating in a digitally responsible manner.