September 7, 2022
Valentino with Karma Metrix to make websites more sustainable
Valentino with Karma Metrix to make websites more sustainable
Author: team-karma-metrix
The Maison is the first luxury brand committed to reducing the CO2 emissions of its website thanks to the partnership with Karma Metrix.
---
In 2022, Valentino started helping the web to be more eco-sustainable: the famous Luxury Brand relied on Karma Metrix to calculate the carbon footprint of its website and to implement actions that can improve energy efficiency and eco-sustainability of web pages.
In fact, the Web is responsible for around 3.7% of total world CO2 (for a benchmark: the global airplane traffic produces "only" the 2% of total world emissions).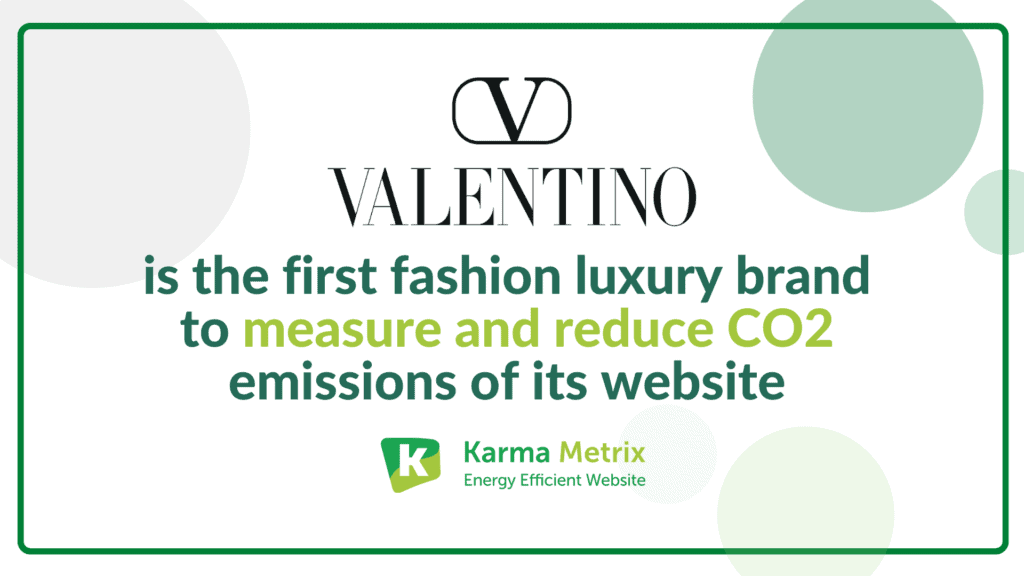 Valentino: the Company
Valentino has been a world leader in high fashion for over 60 years and one of the most attentive brands on sustainability. In fact, the designer was already awarded in 2019 at the "Green Carpet Fashion Awards", dedicated to fashion sustainability.
Among the most recent Valentino projects we remember "Open for a Change", an initiative that consists in producing shoes made of recycled and bio-based materials (viscose and polyols derived from corn), with a special attention for the packaging, built with recycled materials and ecological fibres of certified origin.
The Maison has also launched a new conscious-driven section on its website called "Creating Shared Value". The web page is designed to tell the audience all the efforts made in the green transition, through projects that reflect the 3 company's values ​​of responsibility: Planet, People and Product.
Related to the birth of the "Creating Shared Value" project, Valentino decided to sign the partnership with Karma Metrix and expand its commitment also to digital sustainability.
Partnership Karma Metrix
Web pages consume energy and emit CO2. Karma Metrix is ​​the first program that calculates the CO2 emissions of websites thanks to its own innovative algorithm, and helps reduce them.
The partnership promotes a fundamental principle: you can use the web in a more responsible and sustainable way, with greater attention to environmental impact and climate change.
"Facts show that the Maison, committed to generating new digital opportunities within the brand,
is at the forefront of the green transition process" – says Ale Agostini, creator of the Karma
Metrix project – "We are pleased to join forces with the Maison to raise awareness that green
transition also involves a more efficient development of websites focusing on en-ergy efficiency.
As Karma Metrix we are proud to promote positive change that aims to re-duce CO2 emissions."
---